"Football Gameday" Buffalo Wing Dip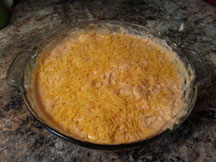 My Wife got this recipe from a friend at work a couple of years ago.
We've been making it on Saturdays & Sundays for a Football Game snack.
Add the Hot Sauce & Cheddar Cheese to taste, & make sure you have something to drink.
1 large can shredded chicken

1 package of softened Cream Cheese

1/2 cup Hot Sauce (your choice of brand, we use Frank's Hot Sauce)

1/2 cup Blue Cheese or Ranch Dressing

1/2 cup to 1 cup of Shredded Cheddar Cheese (add to your taste)

1 bag of Tortilla Chips.
Mix all ingredients together in oven safe dish.
Sprinkle top with additional Cheddar Cheese.
Place in 350 degree oven of 30 minutes.
ENJOY!
--
--