1. Preheat oven to 375 degrees.
Heat cherries with liqueur in a saucepan over low heat, stirring occasionally, 8 minutes.
Drain, reserving 2 tablespoons liquid (I save all liquid).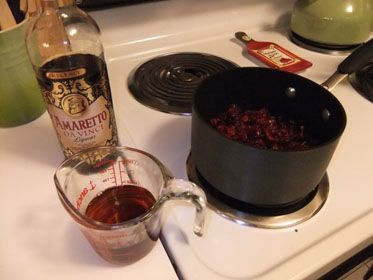 2. Sift together flour, baking powder, and salt. Mix butter and granulated sugar with an electric mixer until fluffy, about 2 minutes. Mix in 3 eggs, 1 at a time. Mix in cherry liquid and vanilla. Gradually mix in flour mixture. Stir in cherries and nuts.
3. On a lightly floured surface, divide dough in half. Shape each half into a 12 ½-by-2 ½ -inch log. Flatten logs to ½ inch thick. Transfer to two baking sheets lined with parchment paper. Brush logs with beaten egg; sprinkle with sanding sugar.
4. Bake 35 minutes. Transfer to two wire racks; let cool, 20 minutes. Cut each log on the diagonal into 16 to 18 pieces. Transfer pieces to racks, laying them on sides. Set racks on two baking sheets. Bake in a 300 degree oven, 8 minutes; flip. Bake 8 minutes more. Let cool until crisp.