"It's The Great Pumpkin Charlie Brown" Trivia Questions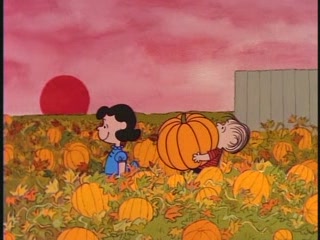 1. How does Linus get the pumpkin home?
2. What does Linus say to Lucy after she carves the pumpkin?
3. Charlie Brown is raking the leaves in his yard. Along comes Linus, with a large lollipop and jumps into the pile! What does Linus say after he jumps in?
4. Who does Linus write to and ask to bring him toys on Halloween?
5. Who does Linus ask to sit with him in the pumpkin patch on Halloween night?
6. Lucy says to Linus "You can't possibly reach the mailbox". How does Linus open the mailbox?
7.Who goes as a witch for 'tricks & treats'?
8.What is Charlie Brown's costume supposed to be?
His quote is..."I got a little carried away with the scissors"
9.What is Snoopy for Halloween?
10.What does Charlie Brown get from each house for Trick or Treating
?
11.According to Linus, the Great Pumpkin flies all over the Earth looking for the pumpkin patch that he thinks is the __________.
12.Violet and Lucy ask Charlie Brown to model for them. What do they do to the back of his head?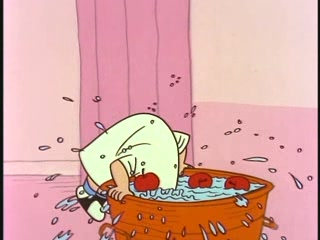 13.When Lucy is bobbing for apples, who is on the other end of Lucy's apple?
14.Linus and Sally are waiting for the Great Pumpkin in the pumpkin patch. They suddenly hear a sound and see a shadow rising up! What happens to Linus after he gets excited and yells, "Was that? Was that?"
15.Instead of the Great Pumpkin rising up from the pumpkin patch, who is it?
16.Linus falls asleep in the pumpkin patch never getting to see the Great Pumpkin. Who wakes up in the middle of the night and puts him to bed?
17.What does Linus say to Charlie Brown after he tells Linus that he used to believe in stuff too?